My letter writers from this morning were an interesting bunch, dontchthink? And I would like to point the reader to the fact that my readers are generally fairly literate, and that they read through this bog seeking "narrative structure." So-either they have sicc'd the robots on me, or they have my brain entrapped somewhere offline in a rotten barrel of apple vinegar. Maybe they are doing a biopsy in Pakistan.
But I can take heart that my readers are world wide. And they are generally literate; and they are sometimes from New Yarwk City, even. Wow. The big apple, Dorothy! Well- while we're here in the Big Time, maybe I will take a moment to advertise an author that those good guys and gals over there should read- Alex Vitale:


Yeah, that's an unpaid advertisement. It's so rare to get a good sales pitch in, but when you believe in things, well, it's easy to get the word out. But when your gods become endless DVIC/MIC/PIC dollars, probably believing in things isn't that important. Hoof to mouth existence does that to people.
Anyways: about language, I think that this mornings readers were an interesting group. And upon further analyses, I discovered they are quite literate too, in the following languages:
Languages
C

Professional working proficiency

C++

Professional working proficiency

C#

Professional working proficiency

Java

Professional working proficiency

VB6

Professional working proficiency

VB.NET

Professional working proficiency

PHP

Professional working proficiency

Delphi, Pascal

Professional working proficiency

Python

Professional working proficiency

Ruby

Professional working proficiency

Javascript, VBScript

Professional working proficiency

Perl

Professional working proficiency

Oracle, PL/SQL

Professional working proficiency

SQL Server, T-SQL

Professional working proficiency

MySQL, Stored Proc

Professional working proficiency

Postresql, Store Proc

Professional working proficiency

MS Access, VBA, obj model

Professional working proficiency

Fortran

Professional working proficiency

COBOL

Professional working proficiency

PL/I

Professional working proficiency

Assembly Intel, Motorola

Professional working proficiency
Me, I'm just a moron who writes about organized gang stalking, and gets a few news tips here and there from those who think democracy still means something. You might have forgotten democracy, but I haven't. Which is why ROGS is my contribution to a better society, based in not being afraid some robot, or some sooper seekrit speech policing agent,  somewhere along the cancerous internet back bone will flag my pure speech, and maybe that will lead to me getting killed by Johnny Manspreader and the Balfour girls Klan.
Speech is also what Robert Parry talked about back in 1993, when he spoke in Santa Monica California about "Fooling America," and admonished the press that the mission creep of the Drug War and all of its propaganda operations had leaped the border, and come home to roost, where it has been dropping crappings over the edge of every conversation at the henhouse ever since.
And, all that crapaganda has become "democracy by whisper campaigns," which keeps bobble heads front and center in the "news" business, but doesn't do a whole lot for democracy.
An while it looks like we could theoretically blame Israel and it's terrible hasbara for the current condition, that would be a disservice, because poor Israeli's are every bit as bullied and harassed by cult elements in western societies as journalists are. Because, remember: it wasn't Israeli's alone that waged the Palestinian Whisper Campaign ( a psychological operation)-no; they had the help of the British monarchists and a Rothschild or two.
And, this same whispering trend that we see with Harvey Weinstein getting his ass handed to him by Rose McGowan(covered by Ronan Farrow); and poor Al Franken weathering an ass-grabbing scandal in the state that (most likely) started the current whisper-we see how easily mob rule can be created by attacking key constituents-aka "influencers" with slander and whispers.
But all of THAT had precedence more recently than in Palestine in 1948: remember Daniel Ortega, the Sandinista? Yup, and his charming daughter Zoilamérica Narváez Murillo were a case study n how to wage a Cathy Obrien psyop using a daugter against a father. Such is the sad state of our affairs these days. Women are bought so cheaply, having been pre-propagandized and ignited by the Bernaysian dialectic. Each firl to a letter a Cathy Obrien.
How much democracy is lost every time a whisper is more important than rights of due  process of law? I guess we will have to wait for FISA to tell us, from the deep recesses of the Star Chamber. National security? What's that if we don't have a nation? Because a "nation" is defined by LAWS and unreakable bonds between contractors: the social compact is each citizen's guarantee of due process under the law.
Bu whisper campaigns and slanderous allegations that by design are destructive to justice? yeah-you get the picture-these fly around the world, light as pig sh!t encrusted chicken feathers, on a single breath of air. Pulling a train indeed.
Feminist Jurisprudence, CIA styled propaganda operations, or deep trance formation? You decide-because I'm no good with languages, or nuance: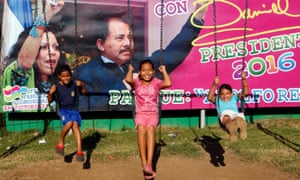 Most daughters would be proud of a mother on the verge of a historic election victory, but the prospect brings pain and dread to Zoilamérica Narváez Murillo, who says she fears the politics of her nation are becoming as destructively incestuous as that of her family.
Narváez is the outcast child of Nicaragua's first lady, Rosario Murillo, who is standing for the first time in this Sunday's election on the same ticket as her husband, the veteran Sandinista leader and national president
Daniel Ortega
.
Polls suggest the first couple will win by a landslide, prompting comparisons with the Underwoods in the TV drama
House of Cards
, outrage among an opposition who claim a rigged poll is cementing the power of an authoritarian dynasty, and despondency in their daughter.
Narváez claims Ortega, her stepfather, sexually abused her from the age of nine years old. When she went public with these accusations in 1998, her mother turned against her and led a campaign of denials that propelled the president's wife into a more powerful position both in her marital relationship and national government.
In the years since, Murillo has moved from the fringes to the centre of Nicaraguan politics. She is already de facto chief of staff, the main spokesman of the administration and a micromanager whose approval is needed for every ministerial interview or policy draft. The vice-presidency will formalise her power. According to Narváez, it will also complete a cynical trade-off.