For nearly a decade before I knew about it, various government agencies were using fake cell phone towers to locate cellphones. In order for these devices, called StingRay, and Hailstorm, and  Triggerfish, and a bunch of other brands, to locate a phone, there was just one little glitch: they swept up entire neighborhoods of cell phone numbers, and frequently jammed the network so badly that no one in the vicinity could call out.
Few people, for example, are aware that a NSA program known as TREASUREMAP is being developed to continuously map every Internet connection — cellphones, laptops, tablets — of everyone on the planet, including Americans.
I won't waste time imagining how many old ladies had heart attacks and died, or how many kids were kidnapped by crazed pedophiles (these guys are EVERYWHERE! along with SATANISTS!), or who drowned in a bathtub and couldn't be saved in these neighborhood jam sessions, but suffice it to say there's probably a few.
Related Story: a leaked catalogue of secret surveillance gear.
These cell phone tower simulators were being used without a warrant, and without the public's knowledge for over a decade and a half before the rest of people knew about them. As  journalist, that made me mad, because the public has a right to know. But how can the public know unless someone tells them the name of these devices? Or how they are used?
Then, four years after I knew about it ( as they were jamming my phone, and a little yellow airplane flew above my head), I told someone else, who told someone else, and after some fifteen plus years of Stingray's and other hidden spy gear being used to spy on American's without a warrant, we see that judges have caught on a little bit, and cops are being told to get a warrant. Apparently, democracy is still bubbling up once in awhile here in the land of the free. And that, very very cautiously, because they are popping bubble's before we can even begin make them.
From Techdirt.com:

Federal Bill Introduced To Add A Warrant Requirement To Stingray Deployment
from the reclaiming-the-Fourth,-bit-by-bit dept
House Oversight Committee chairman Jason Chaffetz, along with his Senatorial counterpart Ron Wyden, is tackling something he
promised to act on
after he was finished excoriating the leaky Office of Personnel Management for ruining the lives of millions of Americans: Stingray devices.
A bipartisan group of House and Senate lawmakers introduced legislation Wednesday requiring police agencies to get a search warrant before they can deploy powerful cellphone surveillance technology known as "stingrays" that sweep up information about the movements of innocent Americans while tracking suspected criminals.
"Owning a smartphone or fitness tracker shouldn't give the government a blank check to track your movements," said Sen. Ron Wyden, D-Ore., a member of the Senate Intelligence Committee who introduced the bill with Reps. Jason Chaffetz, R-Utah, and John Conyers, D-Mich. "Law enforcement should be able to use GPS data, but they need to get a warrant. This bill sets out clear rules to make sure our laws keep up with the times."
When one examines how lawlessly and un-Constitutionally these agents and agencies have been acting-and for so long- one wonders f the private prison industrial complex isn't giving them kickbacks. That would be a good story to research.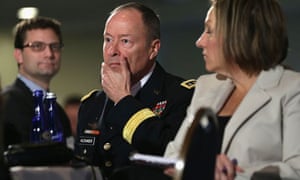 A National Security Agency employee was able to secretly intercept the phone calls of nine foreign women for six years without ever being detected by his managers, the agency's internal watchdog has revealed.
The unauthorised abuse of the NSA's surveillance tools only came to light after one of the women, who happened to be a US government employee, told a colleague that she suspected the man – with whom she was having a sexual relationship – was listening to her calls.
From James Bamford at Reuters:
Why NSA surveillance worse than you've ever imagined.
Few people, for example, are aware that a NSA program known as TREASUREMAP is being developed to continuously map every Internet connection — cellphones, laptops, tablets — of everyone on the planet, including Americans.
"Map the entire Internet," says the top secret NSA slide. "Any device, anywhere, all the time." It adds that the program will allow "Computer Attack/Exploit Planning" as well as "Network Reconnaissance."
One reason for the public's lukewarm concern is what might be called NSA fatigue. There is now a sort of acceptance of highly intrusive surveillance as the new normal, the result of a bombardment of news stories on the topic.
I asked Snowden about this. "It does become the problem of one death is a tragedy and a million is a statistic," he replied, "where today we have the violation of one person's rights is a tragedy and the violation of a million is a statistic. The NSA is violating the rights of every American citizen every day on a comprehensive and ongoing basis. And that can numb us. That can leave us feeling disempowered, disenfranchised."
NSA fatigue or learned helplessness and operant conditioning?