I have demonstrated in multiple places on this blog that OGS is frequently implicated in cases that target the "control of the sex supply," as international banking interests and billionaires seek to become the pimps of our daughters; but also that frequent targets are "free agency prostitutes," and whole industries where profit is derived from children.
And, let me know if you are starting t see patterns, because….
READ THIS POST ABOUT enjo kosai/enjo kosei FOR REFERENCE, and especially this post, from a famous police misinformation hoax in Texas,where police claimed that gang stalking awareness fliers were laced with fentanyl. These fliers were later linked to the NSA.
OGS is also international; that it utilizes databases illegally, and the this data trickles down to local LEO's who are devoid of concern for due process of law, but rather, working for internationalist interests for DVIC dollars.
I have also demonstrated that these signal to each other online and off with special "coded language," and that the with little irony and even blatant lies and conflation, international money and it's NGO's seeks to court local populations and then, derive profit from the lucrative "sex trade."
Here, AGAIN, without irony, we see that these use the number 13, the number of chaos in yet another total lie, and that lie told by an elderly white female.So- have a lok at how these types depend upon numerology and gematria to cause, or maintain superstitions-but also, as a form of veiled threats due to the common vernacular's jargon about "the thirteens." As such, it is a sign and a symbol to the oppressed from those who oppress them.
Related Story: Gangs frequently use the number 13, and that have affiliations with international intelligence operations, as well as religious sects that do not respect the rule of law, and these gangs are the modern "pirates" that governments and the IC shake down for cash in an extension of "black cash operations."
MS13 and Donald Trump
Prison symbols and meaning from CorrectionsOne.com
Gang Awareness Guide from New Jersey State Attorney General
This combination fits a pattern, which is that in the sex trafficking narrative, which is thinly disguised as the "human trafficking" narrative, some seek to control sex itself AS AN INDUSTRY- and that conflation, lying, and then, dastardly, often illegal behind that scenes activity in order for them to create narrative, maintain narrative, or defeat counter-narrative.
And few know about oppression more directly than black/ African American women for who the white female has always been a bane and a shame- and white women who have been in all generations, a willing, and favored tool and a mouth piece- a sock puppet of the oppression of others.
Maya Angelou brought attention to this number in her poetry, as well as it's potential for racialized meaning, when she called forth her childhood memories of "the Thirteens" which was a "rope skipping song" of our earlier era.
But beyond mere racial display, her version of it (and many kids of our era had their own versions), her version invokes class, gender, but especially- and this cannot be missed- she invokes deeper social issues such as cuckoldry and the carceral state- but with the next layer of the racialized versions of it!
In other words, Angelou's version of the Thirteens invokes all the same themes that I have covered herein at ROGS, namely the DVIC, the MIC, and the PIC.
so, the Thirteens are themselves a description of  means and method of overt social control as well as covert social control.
Follow the link above for the "white version"of it. But here is the version for black folks:
Your Momma took to shouting,
Your Poppa's gone to war,
Your sister's in the streets,
Your brother's in the bar,
The thirteens. Right On.
Your cousin's taking smack,
Your uncle's in the joint,
Your buddy's in the gutter,
Shooting for his point,
The thirteens. Right On.
And you, you make me sorry,
You out here by yourself,
I'd call you something dirty,
But there just ain't nothing left,
'cept
The thirteens. Right On.
And here, below, we see the number 13 "coincidentally" pulled from the hat of someone who is in a position of power, representin foreign interests, and who seeks control of "the sex supply" of another group of people.
Are you seeing patterns yet? But when an "outside group" targets the females of an "inside group" in-group and out-group conflict occurs. SO too, do we see elements of Roberts' strain theory predict that "deviance" will occur.
SO, at the juncture of the UN and culture wars in Japan, we see a case of western and christian, and Jewish definitional biases used in conquest through moral imperatives cast upon animists and buddhists and Shinto's.
Strain theory, developed by Robert K. Merton, argued that society may be set up in a way that encourages too much deviance. Merton believed there was a disjunction between socially approved means to success and legitimate cultural goals.
Criminal bias: In sociology and criminology, strain theory states that social structures within society may pressure citizens to commit crime.
Third Way interpretation: western definitional biases conveniently situate themselves in moral imperatives to disrupt local economies via moral shaming; and then creating subsidiary sex supply based cultures, or, this.
When Maud de Boer-Buquicchio, the UN's special rapporteur on the sale of children, child prostitution and child pornography, told the media that Japan should "ban sexually abusive images of children in manga" at the end of her visit in October, you might think the manga industry would be the ones to get all hot under the collar.
Actually, the strongest reaction seems to have come from the Japanese government itself.
It was another comment Maud de Boer-Buquicchio made that has stoked up trouble.
She drew on unknown statistics to claim that "Some 13% of schoolgirls in Japan are involved in enjo kosei".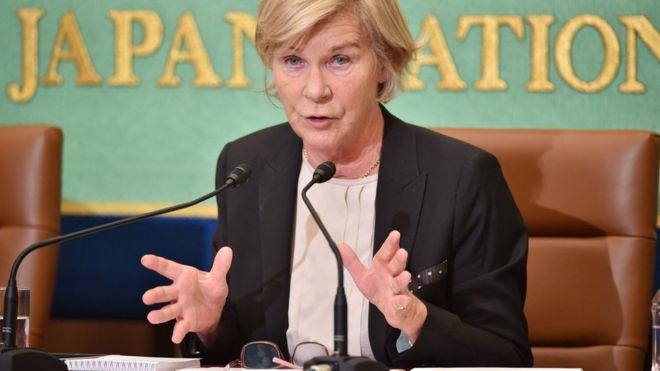 Enjo kosai, as regular readers will know, is the euphemistically named "compensated dating" where school students go on dates with salarymen they meet online in return for money or treats. Hence you can see very young girls with designer bags on their arms. They earn the cash somewhere.
Japan's Ministry of Foreign Affairs has demanded the remark be officially withdrawn.
It first asked for a source for the claim.
De Boer-Buquicchio apparently responded that she had not relied on one single source because there is no official statistic (we can't help imagine why…).
"However, many of my interlocutors referred to it as a worrying trend which can easily lead to sexual exploitation of the minors involved in this lucrative business," she added.
"In the press conference, I made reference to estimates I had seen in open sources to highlight a phenomenon that must be urgently tackled."
Open sources means websites like this one?
The foreign ministry says her remarks are "inappropriate" and "regrettable".