Should gang stalking targets call police? It's a no brainer-the police are IN ON IT. The sad case of Bijan Ebrahimi, where feminist theory in practice works with police to murder immigrants. He called police for SEVEN YEARS about his neighbors harassing him and threatening him with death and imminent harm.
Then the police mocked him, and wrote him off as a nutter. THEN he was murdered and set on fire:
Despite 85 calls to the force between 2007 and July 2013, officers viewed him as a liar and a nuisance.
In 73 of the calls, he reported incidents including racial abuse, criminal damage and threats to kill – but police failed to record these as crimes on at least 40 occasions.
Keep in mind that the police AND the eventual murderer of Ebrahimi worked together to form and frame a "narrative." This is what "community policing" is, but also, what gang stalking is too. What a coincidence!
For the longest time, pedofication was a term that existed in the dark spaces of police jargon, and outside the "real world" where the rest of us try to live. In order to hear the term, one would have to know some cops, or be related to some cops.
Like most of the terms and practices and dialectical analyses of "what is organized gang stalking," the common vernacular-and the technical language of psychology-is out of touch with police practices. And language in the internet era.
So- in many online narratives of gang stalking we can find examples of pedofication (which, for some reason, manages to have escaped Google search results for MOST OF THE TIME the internet has been around), and the variants of pedofied, pedofying, and more. But there are many cases online where we can watch this in action.
Here's a story for you, about how pedofication works in action, as we see a crippled immigrant pedofied, we see the police involved but doing nothing to protect him, and then we see him being murdered and set on fire by his "neighbor," who is one of the  "good guys."
Let me know if, and when you start seeing "patterns" in the grand make-work project that is the collusion between feminist jurisprudence, feminist psychology, and policing in the form of the DVIC.
But it's not merely "vigilante-ism" nor is it "group stalking" or anything even close-it is gang stalking, which has it's roots in the practices of counter-intelligence operations, and domestic policing as "gang members" rights were tossed out the window in the era where local LEO's lined their pockets with hush money every time they caught a load of CIA cocaine, which Gary Webb wrote about, and then, won a Pullitzer Prize, and then, shot himself in the head-with TWO bullets.
But pedofication has long been a staple of religious cults and sects as well, and especially in policing and sex crimes units, as we see in the case of the Manassass dick pick cop who tried to force a young boy to have an erection as law enforcement and a judge watched, and filmed the boys penis, while at the same charging the boy with child porn, because he had a girlfriend two years younger than he.
And all the good guys with secret society membership and deep social connections show up in stings with underaged hookers, or in pedophile rings, which are primarily run from within the deep cover of churches and foster care which is a foundation level DVIC industry that works with both pedophile rings, AND Big Pharma(you might consider THAT next time you hear the oft repeated phrase that pedophiles "drug their victims." It's hidden in plain sight.
Pedofication then, appears to serve the social function of scapegoating, but also is emblematic of our current social narrative to demonize men who cannot/will not assimilate into such a social structure. To isolate or bully one member of a society to take the heat-and the insight- off of a well organized but very sick society. And, scapegoating has a rich history in Jewish religion and practice as well as Catholic's who feature the goat prominently in their liturgies.
Also, it cannot be missed that in the dialectic of organized gang stalking, and the whisper campaigns, that Eleanor White, who was pedofied in Canada, has documented the fact that retired cops and community stalkers will "make life a living hell" for targeted individuals. And, here is a news article from ABC news titled "Prison Is Living Hell For Pedophiles."
Lastly, the linguistic evidence indicates that where once Eleanor White documented how retired cops work in the community to make life living hell for "child support debtors and pedophiles," we see that these categories have grown now to over ten categories, counting the mentally ill, like Kelly Thomas, who was beaten so badly by police that hey remarked "we beat his face to hell."
So- meet Bijan Ebrahimi, an aspiring immigrant, who was stalked, harassed, and who was beaten to death, and burned to hell, as police looked on in amusement
Related Story: Key Figures in CIA Crack Cocaine Distribuion Have Come Forward to Vindicate Gary Webb's Dark Alliance Reporting
These covert domestic terror operations utilize creative and morally bankrupt methods of mind [email protected] targets to make them seem crazy, or worse, and the local police are nearly 100% aware, and complicit in this activity.And as we see with retired cops and the LEIU's that dot the world, there is no better place to hide social evil and deviance, as they are un-policed on any level.
As we see in most gang stalking that I document throughout this blog, even journalists who report facts and stories in the public's interests become targets of OGS; and Webb reported that they CIA level gang stalkers had infiltrated his marriage, destroyed his family, peeked in is windows, and climbed up his gutter pipes in a hidden campaign to Kill the Messenger. And, this within a decade or so of when another Pullitzer award winning journalist from Newsweek, Robert Parry told us that CIA operations had come to our shores in 1993 as well.
Yup. Gang stalking sure has strange, plainly demonic results. And yes, they can make a person kind of "crazy" because THAT'S WHAT THEY ARE DESIGNED TO DO.
Wanna know how I know there is NO GOD, Mr./Ms. Hoover? I just asked the internet, and it told me "Peter Thiell created Palantir so that peole like this can do what they do in secret-in oder to re-prove for centuries to come that there is no God, because if there were, these predatory fascists and perverts who work in secret as gang stalkers wouldn't need to wiretap us all the time, and kill us for bad werdz." These same who fly to Tel Aviv and Jerusalemm to kiss stones hunt, stalk, burn people to death and believe they have the power of life and death-or the power of G_d to create hell.
So-pedofication and gang stalking, is like, a real thing, and so is tacit and active police involvement in scapegoating:
Bijan Ebrahimi: Police could have stopped refugee being murdered by his neighbour
Video report by ITV News Wales & West of England Correspondent Rupert Evelyn
Police could have prevented the murder of a disabled refugee by a vigilante who wrongly believed he was a paedophile, a damning report has said.
Bijan Ebrahimi, 44, was beaten to death and his body set on fire outside his home in Brislington, Bristol, by neighbour Lee James in July 2013.
In the lead up to his death, Mr Ebrahimi's home and car were also set alight, he was racially abused and the word "pervert" was daubed across his front door.
But Avon and Somerset Police repeatedly ignored Mr Ebrahimi's pleas for help – including his final call about an hour before he was killed, the Independent Police Complaints Commission (IPCC) found.
Despite 85 calls to the force between 2007 and July 2013, officers viewed him as a liar and a nuisance.
In 73 of the calls, he reported incidents including racial abuse, criminal damage and threats to kill – but police failed to record these as crimes on at least 40 occasions.
This showed the "hallmarks" of racial bias, with police logs displaying potentially "racist undertones" including comments about the Iranian national's accent and him being "foreign", the report states.
Mr Ebrahimi's family said the IPCC's report "speaks to the institutional racism that lies at the heart of Bijan's murder and immolation".
"Had the authorities not colluded in the race hate crime that Bijan suffered in his council flat over all those years, he would be alive today,." they added.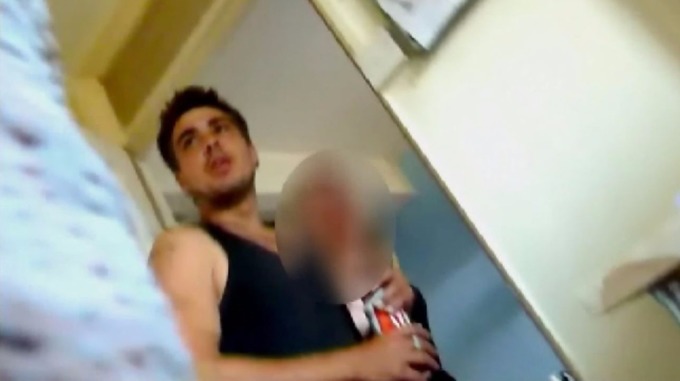 Mr Ebrahimi remained polite and persistent in reporting crimes against him, despite police failing to record them dozens of times.
He even took to recording footage of his neighbours in a bid to prove what was happening to him.
But the police watchdog found "consistent systematic failure" by call handlers, who breached standards on recording crimes, and identifying hate offences and repeat victims.
Jan Williams, an IPCC commissioner, said the police failure was "at its worst at the very time that his need was greatest".
"There could, and should, have been a very different response," she added.
"Instead, his complaints about abusive neighbours were disbelieved and he was considered to be a liar, a nuisance and an attention seeker.